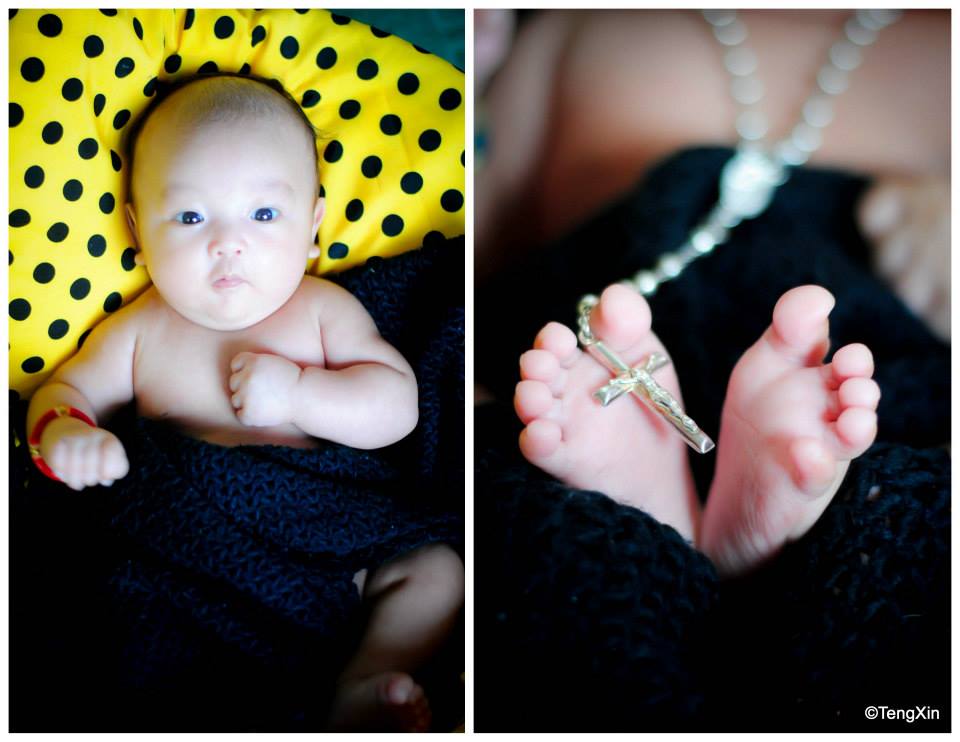 Greetings!
I am writing in thanksgiving to Blessed Father Stanislaus for his powerful intercession on our behalf.
After eight years of trying to have a child and undergoing infertility treatments in Cagayan de Oro and in Cebu, we turned to Blessed Stanislaus Papczynski. After introducing the novena-book at the Divine Mercy Shrine we directly purchased the prayer book. At first, we didn't pray and ask for his intercession regularly, but prayed the Rosary every night and asked our dear Mother Mary's powerful intercession.
It was last year (May 2013) that we decided to have our medical work up and prepare for treatment with a perinatologist. She had me undergo many of laboratory tests and prescribed some medication in order for me to get pregnant.
During our first visit with the perinatologist she told us, "Because of your age (34) and not getting pregnant for 8 long years it will be difficult to conceive a child."  However, she decided to accept us and work with us for 3 months.  But if nothing happens after 3 months she would release us and advise us to look for another fertility doctor.
Last May 2, 2013 she gave me a MMR vaccine (Measles, Mumps, Rubella vaccine) which was for my protection.  She advised me not to get pregnant within 3 months after being vaccinated with this vaccine because it can cause some scary and awful side effects.  Some common side effects include: the baby may have cataracts in both eyes, he may be deaf and mute, he may have heart failure, the baby may be totally abnormal and may conceive congenital defects.  She even advised us to abort the child in case I got pregnant within the 3 months.
Unfortunately, after only 3 weeks, I got pregnant.  My husband and I felt a mix of emotions. We were very happy because of my pregnancy, but at the same time we had this fear because of the possible side effects from the vaccine.
The next day, we hurried to the doctor to ask her what would be the best remedy for us to prevent the baby from the awful and scary side effects of the vaccine.  The doctor advised us that the only Asian countries that have been legalizing abortion were Singapore and Malaysia.  It was up to us to decide which one to choose.  After hearing her advice, tears started falling for hours and hours.  Unfortunately, this visit caused us more pain and discouragement.
It was on this day, that I finally realized that God has been finally testing our patience and faith.  On that same day, I kept on praying to God to help us get through this trial and asked Him to please save and spare our child from the possible abnormalities brought by the vaccine. With all the pain that we had felt that day, I told my husband to surrender everything and submit all our worries and fears to God and let His will be done.
It was also on this day, that we visited the Divine Mercy Shrine. I decided to have my confession and I was able to talk with one of the Marian fathers serving there. With tears in my eyes, I asked for his assistance to include us in his prayers and also with the prayers of his Community for our baby. Then he introduced to me the prayer book of Blessed Stanislaus Papczynski.
This Marian father gave us spiritual guidance and assurance that the child will be normal by God's grace.  He ensured us that he and the rest of his brothers will be praying the novena for us and our child everyday. I thanked God so much that I had this opportunity to talk and meet with one of his loyal servants. I had found relief and somehow found my peace after hearing the encouragement of the priest, advising us to trust in God and to pray through Blessed Stanislaus' intercession.
At that moment we decided to set aside all our worries, confusion, fears and just live our life as normal as possible.  We were also consistently and fervently praying the novena to Blessed Stanislaus Papczynski asking for his intercession.
We decided not to continue with our medical work up with the perinatologist and just to go back to our previous fertility doctor in CDO, Dr. Reynaldo Chu – who happens to be a faithful Catholic also. He advised us that whatever happens to the child whether if it is normal or not, we have no right to terminate it. He advised us to continue praying and stay faithful to God. Dr. Chu monitored my pregnancy religiously and conducted series of tests to save the child from any abnormalities. He advised us to have a fetal anatomy scan to check if the child may have encountered some congenital defects during conception.
After conducting a series of tests and fetal anatomy scan, the results were totally normal. The baby was 100% normal from his face, eyes, ears, tongue, down to his fingers, toes and even his heartbeat. We still continued praying to God and asking our dear Mother Mary and Blessed Stanislaus' intercession.
Last January 22, 2014 I delivered a totally handsome and a normal healthy baby boy. Our doctors (OB-Gyn, Pediatrician, and Anesthesiologist) were strictly monitoring the baby because he still needed other tests for his sight, hearing and heartbeat.  We prayed and hoped for positive results of the tests and screening.  We submitted and surrendered everything to God's will–still faithfully and passionately praying through the intercession of Blessed Stanislaus Papczynski.
With the help and prayers of our families, friends, colleagues and Marians, the entire series of tests conducted (laboratory, hearing test, heartbeat and the new born screening) delivered  100% normal results and our child was perfectly normal!  It was indeed a miracle for us, a precious gift of God, a true blessing that comes from the Lord!
It reminded me of what this Marian father told us during the time we received the fetal anatomy scan result, "You have nothing to worry for it is God's grace."  This was the happiest moment that we have ever felt in our lives.
We are so sure and firmly believe that Blessed Stanislaus Papczynski interceded for us. Thank you, Father Stanislaus, for your compassionate and powerful intercession on our behalf. We pray for your speedy canonization.  We will continue to pray for Fr. Stanislaus's canonization and we will also share our story with others!
With grateful hearts we thank all the Marians at the Divine Mercy Shrine in El Salvador, Misamis Oriental, Philippines for the wonderful work they all have been doing. We always pray to God that He may always protect, guide and bless all the Marian Fathers.
MIRACLES HAPPEN EVERY DAY.  Just put all your trust in God and have faith in Him. What is impossible for man, will be possible for God. He really works in mysterious ways, in His perfect time and according to His perfect plan.
Sincerely yours,
Aileen and Eric Palad