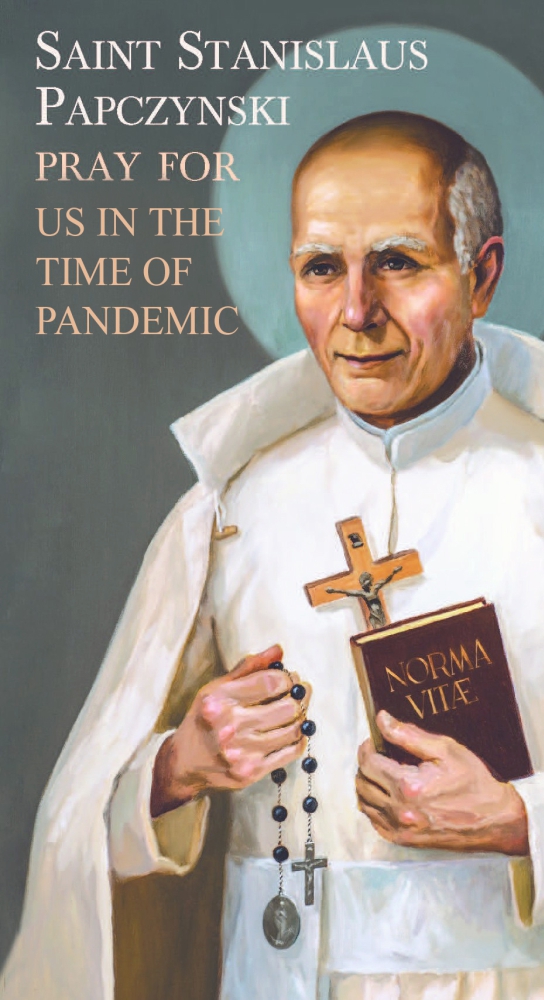 Praised be God in the Highest, for in His Providence, He chose you, our founder, St. Stanislaus as His servant and sent you to work in the vineyard of the Church. Obedient to the call, you followed in the footsteps of Christ and His Immaculate Mother.
You proclaimed the Gospel of God and bent down toward all human misery. God made you our Patron and protector for the difficult time of the third Millennium and also for the present moment of this epidemic when­ the world – affected by disease and fear – has, in some measure, stopped.
Thanks to God's miracles granted through your intercession, you have become a patron of every endangered life. And thus we come before you now to implore your protection.
Before the Majesty of God, we entrust to your intercession everyone in our homeland and around the world who has been affected by the epidemic. You cared for the plague-stricken and the victims of war during the hard times of the 17th Century in which you lived. You interceded before God on behalf of those who had died without being reconciled to God and who suffered in the flames of Purgatory.
Today, we entrust to your care our families, communities, and parishes, the pastors of the Church and the ruling powers. We entrust to your special care the sick, doctors, nurses, first-responders, and everyone serving the good of people and of our Homeland.
Saint Stanislaus, through your bond of love which links you to Mary Immaculate, implore before God's supreme throne, the end of this pandemic, the healing of the sick and eternal peace for the dead. And ask that repentance of heart, conversion and the grace of penance be granted to all of us as well as to those who have turned away from God.  Help us as well as other members of the faithful to atone for all sins – especially those against life – to make amends for all perversions, for the profanation of the Blessed Sacrament and insults against images of the Mother of God, and the persecution of the Church.
Saint Stanislaus, embrace with your care our cities and villages, our entire
Homeland, so that we can live safely, justly, and piously for the glory of God, the Father Almighty and in honor of Mary, our Immaculate Mother.
Amen.